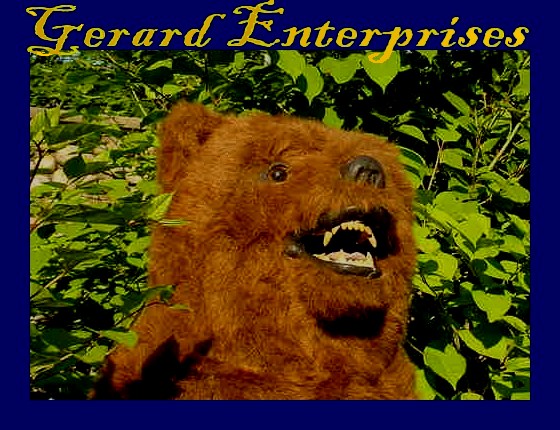 Gerard Enterprises Grizzly Bear Mascot (H-101)
To view more of our mascots, masks, props, or accessories
please click on the appropriate button below..


Welcome to Gerard Enterprises
Creater of the original (TWO PART) moving mouth mask.
Also manufacturer of mascots, props, special effects,
masks, haunted house props, magic supplies, novelties,
latex hands, feet, noses, animal masks, and appliances.
If you do not see it on our Web Site, e-mail us for a custom quote.
Phone; 269-344-2001


Michigan Magic Day 2009

Michigan Magic Day 2015



The masks, mascots and many of the props on this site were sculpted
and manufactured by Netherlands born Antony Gerard Intgroen. If you
would like to know more about Antony Gerard, his wife Laura and two
sons Tony and Nick. Please read the January 2002 article in
Encore Magazine.

They and their business were the Cover Story in that issue.
See Encore button above.

Click on the frog below to e-mail.



Find all the best haunted houses at hauntworld.com