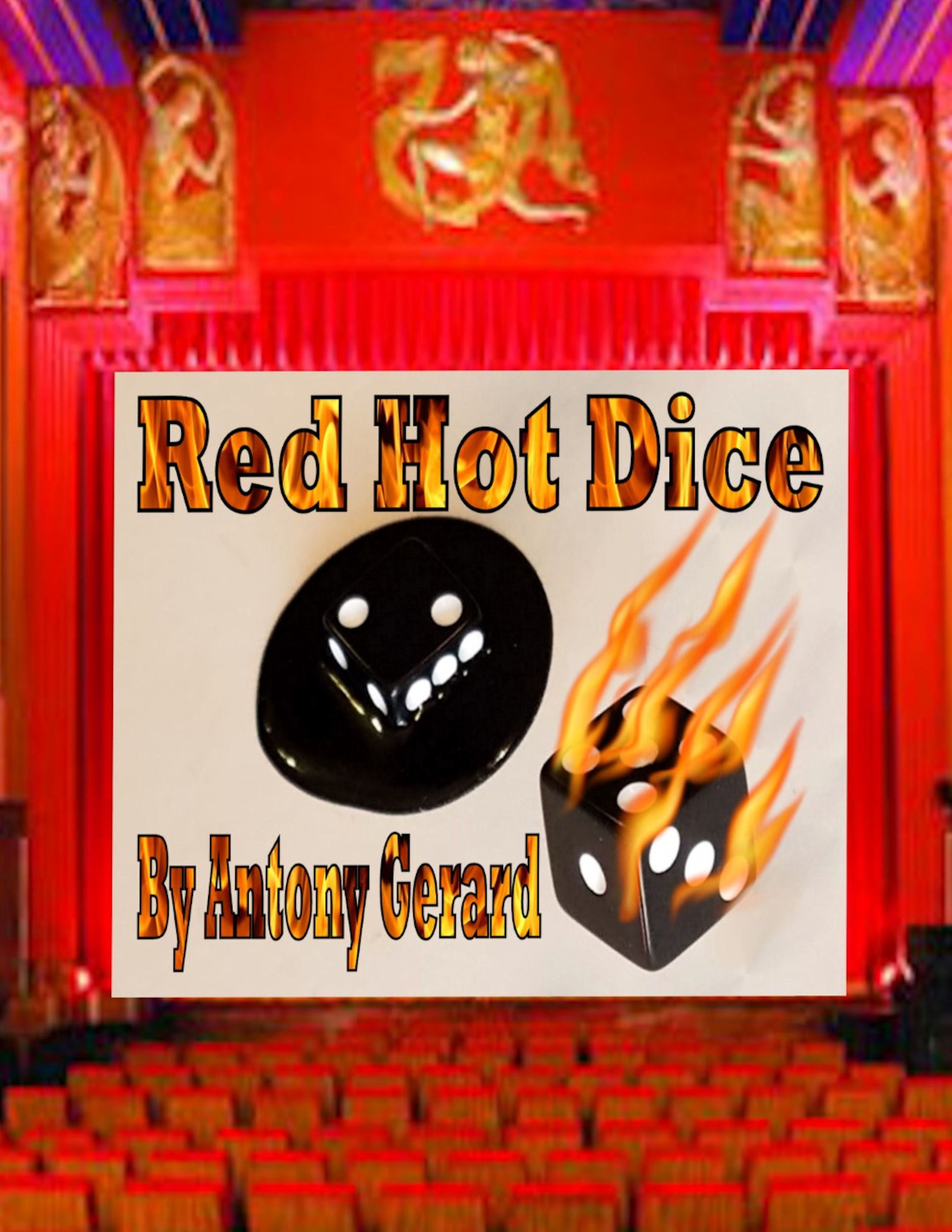 Antony Gerard's Red Hot Dice
Includes instructions, Red Hot Dice, and spill. Cost = $15.00 plus shipping
What you receive,


You receive two of Antony Gerard's Red Hot Dice,
fake spill, and, instructions for several ideas and routines.
Routines from; Tim Carlson, Harold Cataquet,
Paul Critelli, Shawn Farquhar, Kenny Lee Harrington,
Tom Kracker, Chad Long, Nicole Midgley, Ray Roch,
Geoff Williams, and several of my ideas and routines.

Antony Gerard's Red Hot Dice


History: I came up with the idea for "Red Hot Dice" while
manufacturing my magnifying glass holder for my effect
"The Case of the Missing Playing Card". For that effect,
I pour my own magnifying glass holders out of rigid resin.
I was pouring one of my magnifying glass holders and
had a little excess resin left over in my mixing container
so from the excess resin, I poured a few small spills on
my glass pouring table. Also on my table at the time were
a few of my dice that I include in my "Dice Paddle Prediction"
effect. After seeing the resin spills and my dice next to
each other, the idea of "Red Hot Dice" dawned on me.
My "Red Hot Dice" may be used as a novelty, gag, or
employed in a variety of magic routines. What follows
are several ideas employing my "Red Hot Dice" that I
have come up with thus far, plus a few ideas from some of my friends.

Idea #1: Miser's Miracle Idea - Jerry Andrus and Antony Gerard

Idea #2: Die Stacking - Antony Gerard

Idea #3: The Flattened Dice - Antony Gerard - Role a pair
of dice, pick up one and via a Shuttle Pass, exchange it for
one of the "Red Hot Dice". Now show that the regular die
has turned into one of the "Red Hot Dice". It would also be
possible to shuttle pass the two standard dice from your
right hand and into your left hand. Drop the dice to the table
and have them turn into the "Red Hot Dice". If you allow
the dice to bump into each other while shaking them on
the table and under your hand, it will sound
as if you were rattling the dice in your hand.

Idea #4: The Dice Through the Table (Half-and-Half) - Antony Gerard

Idea #5: Slow Melt - Antony Gerard and Geoff Williams

Idea #6: Squeeze Play - Antony Gerard

Idea #7: The Mint/Gem Buster -  Tim Carlson

Idea #8: One Cube or Two; Nicole Hubbell Midgley

Idea #9: Cups & Balls; Kenny Lee Harrington suggested

Idea #10: Chop Dice #1;  Tom Kracker

Idea #11: Cold Melt; Paul Critelli

Idea #12: She is Hot!; Ray Roch

Idea #13: Flash Dice; Chad Long and Geoff Williams

  Idea #14: Dice & Cup - Antony Gerard

Idea #15: The Dice Prediction: Antony Gerard

Idea #16: Dice Deck; Antony Gerard

Idea #17: Solid Stack and several
additional Harold Cataquet ideas.

Idea #17B: An additional dice idea from Harold
Cataquet; "Another "look" for the dice is, as if
it's about to explode (So more balloon about
to pop than an ice cube melting.)

Idea #18: Slow Melt Two; This idea came from my friend Shawn Farquhar.


Antony Gerard's Red Hot Dice
See shipping information below.

The following price is for Priority Mail Shipping
(Ground shipping prices are available upon request).
We also offer combined shipping when ordering more than one item.