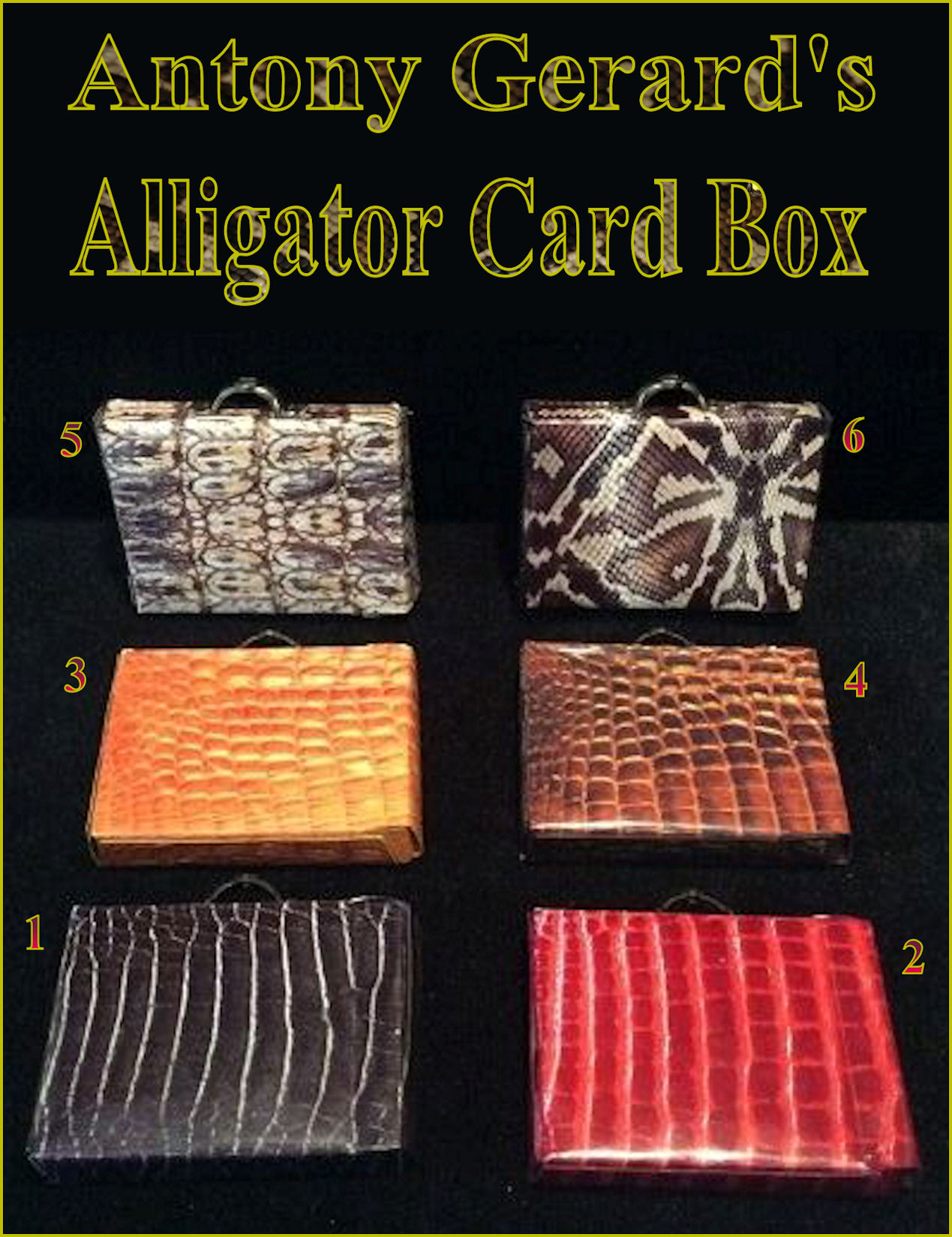 Alligator Briefcase Card Box
The Alligator Card Box is one of Antony Gerard's newest marketed items and is a great conversation piece!
Cost = $15.00 plus shipping
Below is a list of what you receive with
The Alligator Card Box

You receive;
one Alligator Card Box, a deck of Bicycle cards
(Minus the Bicycle Box and instruction cards),
plus, five of my favorite ideas and routines
employing The Gambling Jackass.

You will also receive a few bad (BAD) jokes.
The kind that I like to tell, the kind that get
groans and smiles because they are so bad!

Example; Look at the Alligator card box,
remove the deck from the box, and say,
"Yes I know it is a small case - But it holds four suits"
Clubs, Hearts, Spades, and Diamonds.

I told you that they were BAD jokes! (Ha-Ha?)

The routines are,
"How to know what card has been selected",
"The Correct Prophecy", "My Favorite Card"
"My Lucky Number", and 'A Shot in the Dark!'

A Shot in the Dark has the performer having a
card selecting while the deck is under the table.
During and after the card is selected, both the deck
and selected card remain hidden from view under
the table and in the spectator's hands.

Even under these impossible conditions
the performer correctly names the selected card.

Update; As may be seen in the Alligator Card Box
picture above. The Alligator Card Box is now also
available in a Snakeskin pattern.

Alligator Card Box (When ordering please specify color)
See shipping information below.

The following price is for Priority Mail Shipping
(Ground shipping prices are available upon request).
We also offer combined shipping discounts.
Please contact us about combined shipping costs.