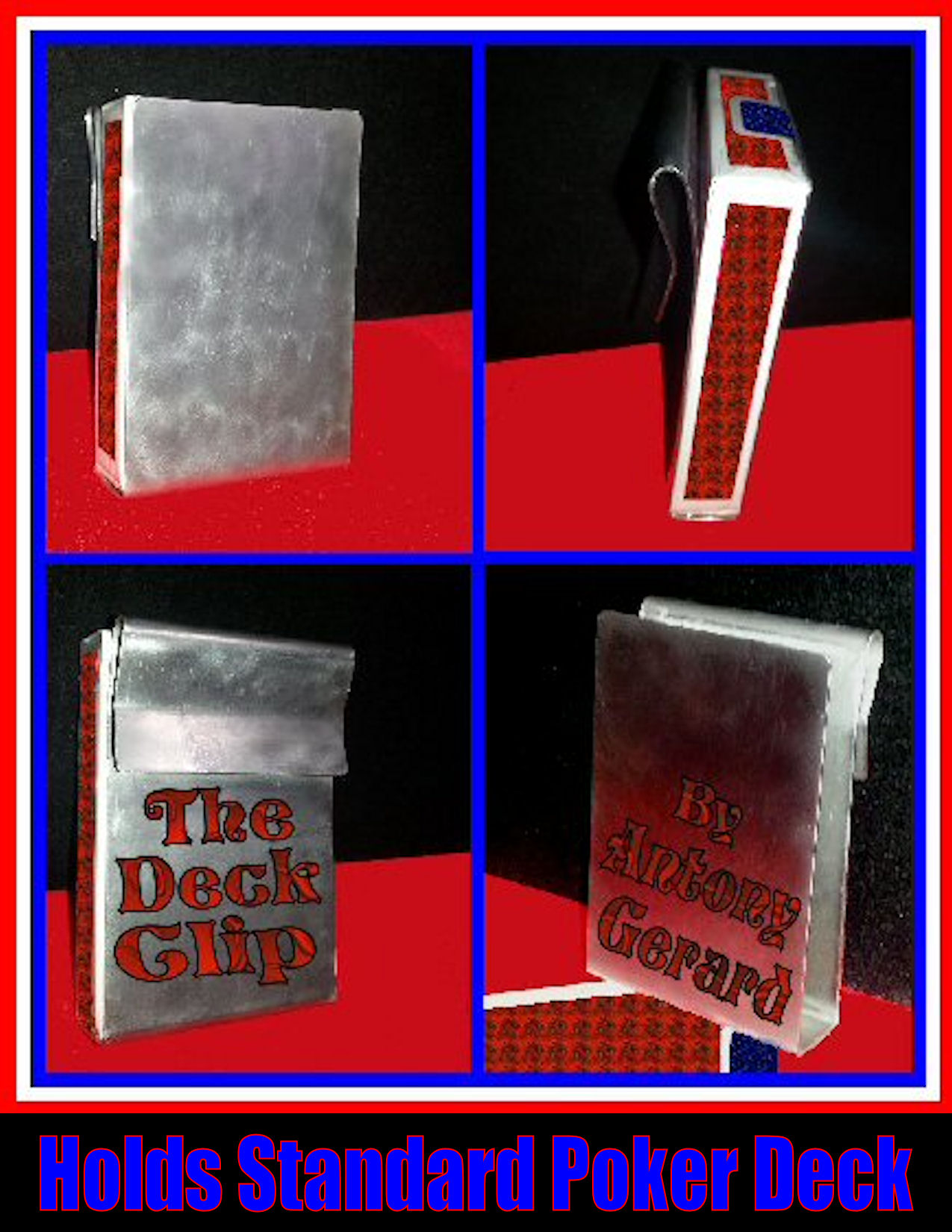 Antony Gerard Deck Clip
Available in either brushed or swirl pattern
Cost = $35.00 plus shipping Available in Swirl or Brushed Stainless Steel
Also available in custom laser cut designs at an extra cost.

Antony Gerard created the Deck Clip in 1978 in a brass version.
Before that, Antony produced his Deck Holder out of leather.
The leather deck holders are still available and may be found on
my products page as Leather Deck Holster.

In 1980, Antony started producing the Deck Clip in heavy Stainless Steel.
Antony designed his Deck Clip after seeing a Deck Press, a tool used by
gamblers to keep their playing cards in better shape for use in a game.
Antony Gerard's Deck Clip hangs outside of your pocket, not inside. Not only
does this keep the deck in good working condition longer, it make the deck
more easily accessible, and it also frees up pocket space for other items.
This is by far the most convenient Deck Clip on the market.

Hand made by Antony Gerard in the U.S.A.

This Deck Clip is unique in that it has a pocket or belt clip built onto it.
No longer do you have to keep your deck of playing cards in your pocket
because the Antony Gerard Deck Clip attaches to your pocket or belt.
The fact that the deck is not in your pocket, allows it to last much longer.
There are a number of uses for the Deck Clip. Other than keeping a deck
of playing cards in good condition for a longer period of time, it may also
be used as an anchor for invisible thread work and a holder for a set of
Linking Rings. Plus, when the deck is removed from the Deck Clip and
the Deck Clip is tapped with the end of a magic wand, the Deck Clip
gives out a bell chime like sound. Something convenient when
performing a routine where a bell sound in needed.
As is used for the start of a race.

The following price is for Priority Mail Shipping
(Ground shipping prices are available upon request).
We also offer combined shipping when ordering more than one item.
Please contact us if ordering more than one item.