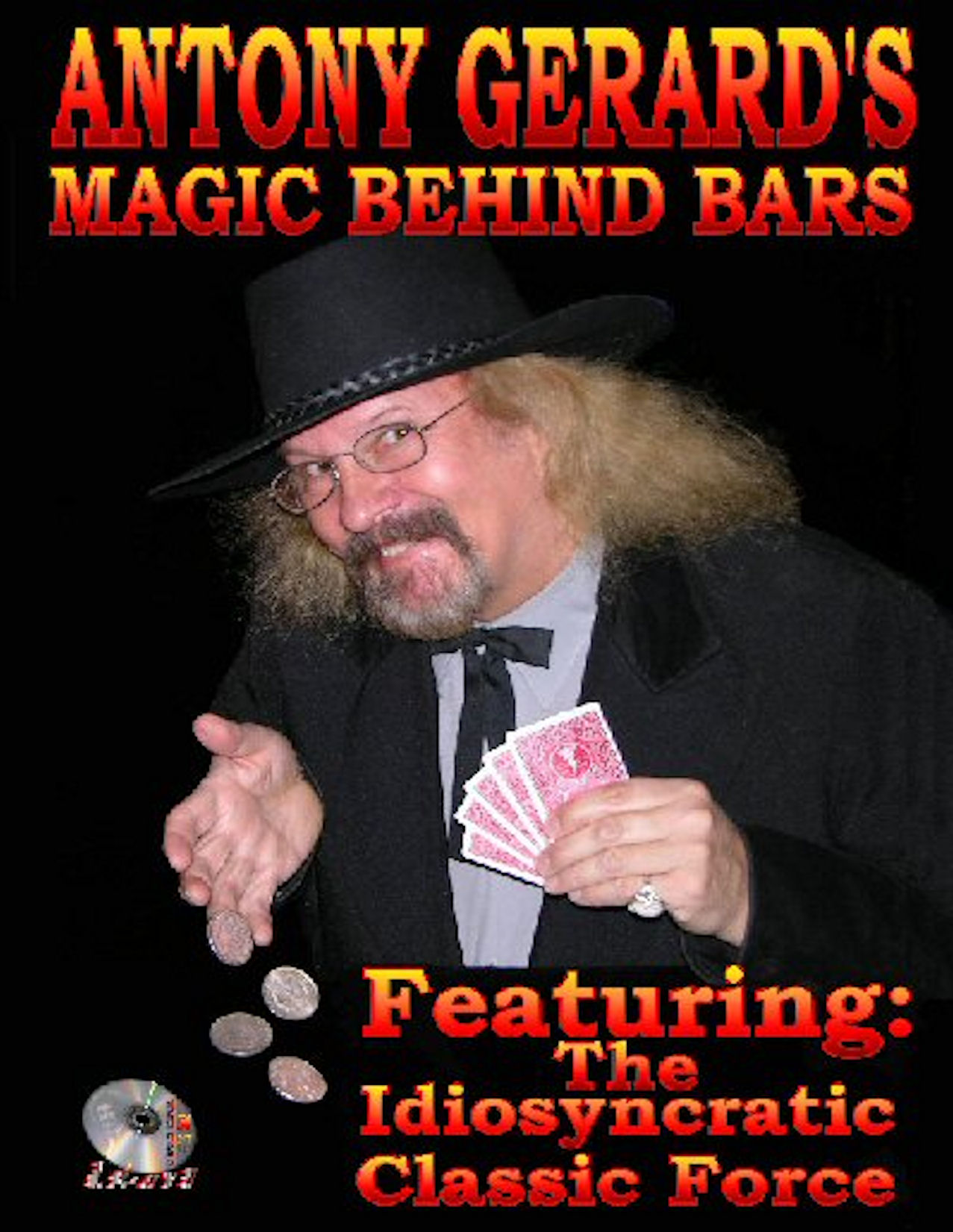 Magic Behind Bars
Antony Gerard's First Lecture Book or DVD
Book Cost = $30.00 plus shipping
DVD Cost = $35.00 plus shipping
Combined = $55.00 plus shipping DVD includes a 14 page bonus material PDF.
UPDATE;
I just wrote a 50 page expanded addendum
that will be E-Mailed to those who have either
purchased my book or DVD, Magic Behind Bars.
It gives a much more detailed explanation of the
Acting, Body Movement, Physiology, and Psychology
as pertains to my Idiosyncratic Classic Force.
If you already have my book or DVD, Magic Behind Bars,
Please E-Mail me for a PDF of my Expanded Addendum.


Below are but a few of the
items covered in this Book and or DVD
Psychology, Acting, Body Language And Body Movement
The Square Shift, Shuffling Down A Different Sidewalk
A FFFF Flustration Count, Riffle Break Force Variation
No-Fold Card Warp, Gambling Jackass, Breather Peek
Scotch & Soda and Two Cards, Billiard Ball Move
A Flipping Good Coins Through The Table
The Coin Bandits Of Osaka
The Idiosyncratic Classic Force
Plus much more!

Below is a video clip of Antony Gerard performing for J.C. Wagner
(who attended one of Antony's Magic Behind Bars lectures)



Antony forced 47 cards on J.C. Wagner during the course of the
show, lecture, and after lecture sessions.
J.C. Wagner's expressions are priceless!

After the lecture J.C. Wagner had this to say about Antony Gerard, his force, and his lecture.

"I once had the opportunity to witness Francis Carlyle perform
the Classic Force. At that moment I knew that I had seen the best.
Today I witnessed Antony Gerard perform his Idiosyncratic Classic Force.
Now I know that I have seen the best!"
J.C. Wagner

Magic Behind Bars Lecture Book (62 Pages)
See shipping information below.

Magic Behind Bars Lecture DVD With 12 Page Supplement (2 Hours)
See shipping information below.

The following prices are for Priority Mail Shipping
(Ground shipping prices are available upon request).
We also offer combined shipping when ordering more than one item.
Please contact us when ordering more than one item.